Guiding Hands Preschool
146 Leitersburg Street
Greencastle, PA 17225
717-597-8525
guidinghands@greencastleub.org
Guiding Hands Preschool located at Greencastle Otterbein United Brethren in Christ Church has openings for their morning and afternoon sessions for 2017 – 2018 school year beginning Tuesday, September 5, 2017.
The school year ends the last Thursday of May.
The classes operate on Tuesdays, Wednesdays and Thursdays from 9: 00 to 11:30 a.m. and 12:30-3:00.
Eligibility requirements are:
Children must be age 4 before September 1,2017.
Children must be completely potty trained.
Transportation is the responsibility of the family.
For more information or to receive a registration form
call us at 717/597-8525 ext. 14 or complete the form below.
About Guiding Hands Preschool
Guiding Hands Preschool is a tailored 4-5 year old program that offers a high quality learning experience. Children will be taught basic educational, social and personal responsibility skills.
No distinct denominational doctrines are taught at Guiding Hands, but care is taken to make it a Christian environment. It is staffed by Christian personnel.
The goals of the school are:
· To provide a modified school experience to bridge the gap between home and school.
· To encourage your child to socialize with people outside the home in a meaningful play group.
· To encourage your child to develop a sense of respect for other people and their property.
· To develop your child's interest in reading.
· To provide a warm, caring, Christian environment with varied experiences of learning and fun.
Guiding Hands has an open door policy and welcomes parents to visit and participate in our activities whenever possible. It is important to build a strong parent/school relationship that will reinforce your child's learning experiences.
Sample preschool day's schedule:
Arrival/attendance
Circle time
Gym
Snack
Small groups (core learning)
Diane Mills – teacher/director
Mrs. Leslie Oberholzer– teacher assistant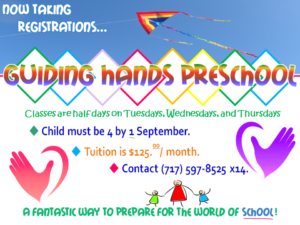 F
For Additional information on registration complete and send