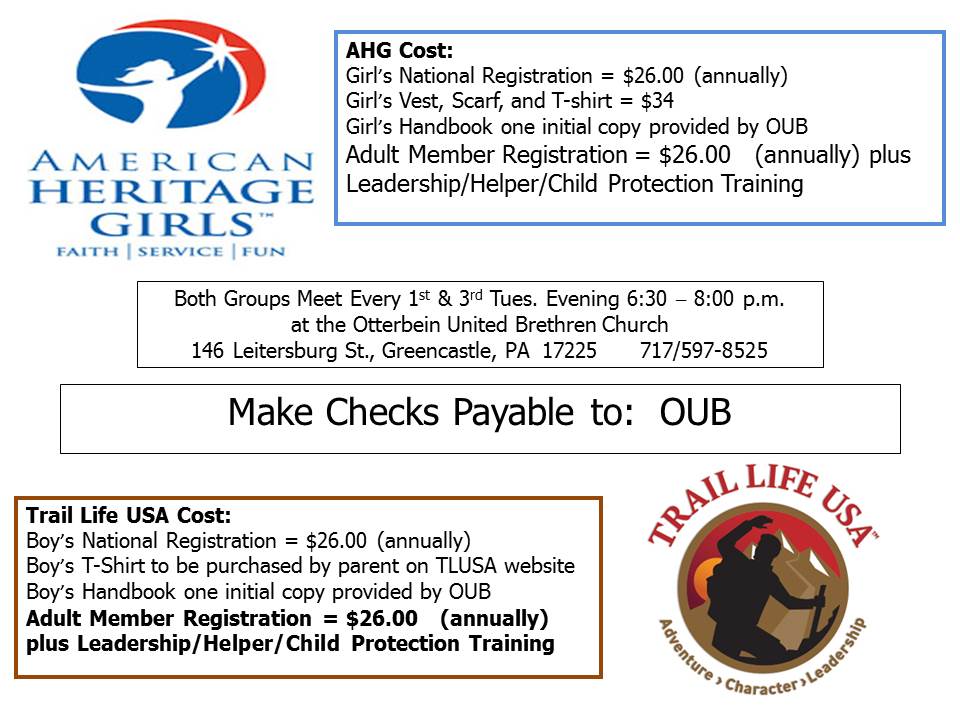 What are the MOTTOS?
Trail Life is "Walk Worthy"
American Heritage Girls is "Faith, Service, Fun"
Do I have to be a Christian to participate?
The program will welcome boys and girls from all faiths (or no faith) to participate in this unapologetically Christian program. The boys' program is more focused on outdoor adventures/events. The girls' program is a balance betwen indoor and outdoor events.
Adult leaders: Will be required to sign a Christian statement of faith and values, undergo Child and Youth Safety Protection Training, submit to background checks, and provide letters of recommendation from pastors that know the applicants.
What makes these programs different?
These programs are faith based, and another significant differentiator is the parents are encouraged to activily participate in the meetings and outings, not to just drop their children off. This encourages a healthy family life that is so difficult to maintain in today's busy schedule.
Where does the group meet?
At the Otterbein United Brethren Church (OUB), 146 Leitersburg St., Greencastle, PA. That's on the corner of Allison and Leitersburg St. across the street from St. Mark's Catholic Church.
What is the relationship between OUB and TLUSA and American Heritage Girls (AHG)?
TLUSA and AHG are a ministries of OUB and are chartered by OUB. OUB has named a member of the congregation to be the Charter Organization Representative. This person oversees the both organizations ensuring that the National Guidelines are in place and being followed.
When do they meet?
The Troop will meet the 1st and 3rd Tues. of the month from 6:30 to 8:00 p.m. at OUB, 146 Leitersburg St., Greencastle, PA 17225. 717/597-8525
What activities do they do?
The activities are a mixture of indoor and outdoor as well as safety training. They take part in a camping program, leadership development, rank advancements, awards, a badge program, community service, summer adventures, and spiritual training.
Are there different groups for different age groups?
Yes, for Trail Life there are three main groups and the activities & events for each age group have a "Life Theme."
K-5th Grade – Woodland Trails – Life Theme is Knowledge
6th – 8th Grade – Navigator – Life Theme is Understanding
9th – 12th Grade – Adventurers – Life Theme is Wisdom
For American Heritage Girls the age groups are:
Kindergarten Ages 5 – 6 Pathfinder
Grades 1 -3 Ages 6 – 9 Tenderheart
Grades 4 – 7 Ages 9 – 12 Explorers
Grade 7 – 8 Ages 12 – 14 Pioneers
Grades 9 – 12 Ages 14 – 18 Patriots
Is there a uniform?
Yes, there is a uniform. To keep costs at a minimum, we are limiting the uniform to a t-shirt that can be purchased from the Trail Life USA or American Heritage Girls web site. The girls will also purchase a vest & neck scarf from the AHG website. They will be worn with a white polo shirt and khaki pants that more girls already have.
Are there other costs?
OUB paid the fees to charter both TLUSA and AHG. OUB will also provide the handbooks for each program.
There is a registration fee of $26 per year for each youth member, leader, and parent member for both TLUSA & AHG. AHG also has a $20 per girl program support fee that the troop will try to pay out of fundraising activities.
Where can I learn more about these programs?
Both organizations have websites. www.traillifeusa.com/
www.ahgonline.org/